Shaun McKenzie, MD, FACS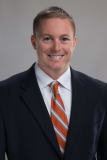 Shaun McKenzie, MD, FACS, is a surgical oncologist who treats cancers of the digestive system and soft tissue tumors. His specialized expertise includes treating cancers of the pancreas, liver, gallbladder and bile ducts (hepatobiliary) along with cancers of the stomach and esophagus. Prior to relocating to Austin, Dr. McKenzie served as the Director of the Markey Cancer Center Hepatobiliary Tumor Program and Assistant Professor, Surgical Oncology, Hepatobiliary and Pancreatic Surgery at the University of Kentucky in Lexington. In addition to providing care to his patients, he was instrumental in teaching residents and cancer research. Dr. McKenzie has authored/co-authored many publications about cancer in the leading medical journals. He has presented extensively at various conferences about the advances and research in surgical oncology.
Dr. McKenzie received his surgical oncology fellowship training in Surgical Oncology at the City of Hope National Medical Center at Duarte, California. Following this, he completed a Hepatobiliary and Pancreatic Externship at the University of Southern California Hospitals, Los Angeles, California. He also trained in minimally invasive oncologic surgery, including da Vinci robotic surgery and laparoscopic liver, gastric and pancreatic resections.
Dr. McKenzie attended medical school at Texas Tech University at Lubbock, Texas. He then completed his general surgery internship and residency training at the University of Kentucky at Lexington.
Dr. McKenzie is Board Certified by the American Board of Surgery. He is an active member of the Society of Surgical Oncology, American Hepato-Biliary Association, the Society for Surgery of the Alimentary Tract, and the Travis County Medical Society.
---