Michael Lee, MD
Associate Professor of Orthopaedic Surgery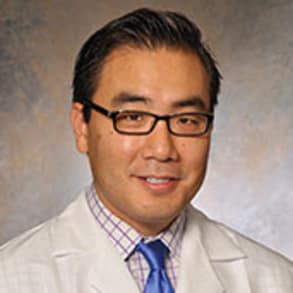 An expert spine surgeon, Michael Lee, MD, treats spinal injuries, degenerative conditions and spinal deformity as well as complex tumors of the spinal cord. He is dedicated to improving safety and quality measures for spine surgery.
As the principal investigator for several research studies, Dr. Lee has worked to identify risk factors for post-operative lumbar spondylolisthesis and to enhance lumbar spine surgical techniques. He recently has focused efforts on creating models to predict the likelihood of complication after spine surgery. In addition to his research, Dr. Lee teaches medical students, residents and fellows about spine surgery. Past courses have focused on the surgical treatment of complex spinal tumors and minimally invasive surgery.
Dr. Lee has published more than 100 journal articles, book chapters and abstracts on spinal conditions and surgical treatments. He has chaired several spinal surgery teaching courses and has edited two textbooks. He also serves as a reviewer for numerous scientific journals. Dr. Lee has been invited to present his work at national and international conferences. In 2013, Dr. Lee was named to the list of Best Doctors in America by Best Doctors, Inc.
Practice Locations
The University of Chicago Medicine
5841 S. Maryland Avenue
Chicago, IL 60637
Center for Advanced Medicine
5758 S. Maryland Avenue
Chicago, IL 60637
University of Chicago Physicians at Matteson
4749 Lincoln Mall Drive
Suite 500
Matteson, IL 60443
Year Started Practice
2006
Board Certification
Orthopaedic Surgery
Medical School
Northwestern University Feinberg School of Medicine
Internship and Residency
Case Western Reserve University
Fellowship
Rush Presbyterian St. Luke's Hospital
Memberships
American Academy of Orthopaedic Surgeons
AO Spine North America
Lumbar Spine Research Society
North American Spine Society
Washington State Medical Association
Washington State Orthopaedic Association
Language Spoken
English
Email
Office Phone
(773) 702-6937
Office Fax
(773) 702-4765
Office Postal Address
Michael J. Lee, MD
The University of Chicago Medicine
5841 S. Maryland Avenue, MC 3079
Chicago, IL 60637
---