Jonathan C. Edwards, M.D., director of the Comprehensive Epilepsy Center at MUSC Health, discusses how responsive neurostimulation (RNS) for partial epileptic seizure offers for the first time two-way communication with the brain. Edwards participated in the clinical trial that led to FDA approval of RNS.. The RNS device first records seizure activity and, once the electronic signature of a patient's seizures is identified, is programmed to recognize and disrupt that signature.
View more on this topic.
More at Progressnotes, MUSC's Medical Magazine
Related Presenters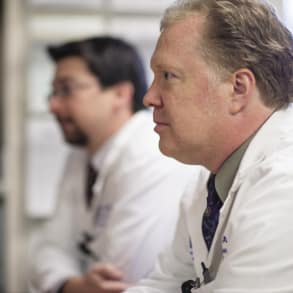 As an epileptologist, Dr. Edwards' clinical interests include epilepsy treatment, clinical neurophysiology, neuro-stimulation, epilepsy surgery, neurological education and functional brain mapping. His research interests include new treatments ...