Mayo Clinic electrophysiologist, Suraj Kapa, M.D., and preventive cardiologist, Francisco Lopez-Jimenez, M.D., discuss the use of behavioral modifications for treatment of atrial fibrillation.  For more information on atrial fibrillation or to request an appointment, Visit Here
Atrial fibrillation is a common disease process of the heart characterized by an abnormal rhythm and often rapid heart rate.  Recent studies have shown that behavior modification such as weight loss and exercise can reduce the recurrence of atrial fibrillation.  At Mayo Clinic, a multidisciplinary team collaborates to come up with the best possible treatment for each patient.  Often times, with behavior modification, patients can reduce the chance of needing invasive procedures or reduce the number of overall procedures. 
Related Presenters
Suraj Kapa, M.D., is a board-certified cardiologist with subspecialty certification in cardiac electrophysiology. He attended the University of Medicine and Dentistry of New Jersey and obtained specialty training in internal medicine at ...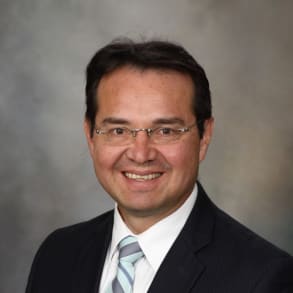 Conditions treated Heart disease Obesity Procedures performed Cardiovascular disease prevention Echocardiogram Interests Preventive cardiology Cardiovascular risk reduction Obesity and cardiovascular disease Evidence-based ...